The "Litter-Robot" refers to an automatic, self-cleaning litter box designed to simplify the process of maintaining a clean litter area for cats. The Litter Robot is a popular product among cat owners. Litter Robot 4 is the latest version of the best-rated robotic, WiFi-enabled cat litter box. Litter Robot 4 has a sleek, modern design and many exciting features that make it quieter, smarter, and easier to use than any litter box you've ever had.
How does the Litter Robot 4 work?
The Litter Robot 4 operates primarily through the use of patented sifting technology. The gadget automatically detects your cat's presence and begins a countdown timer when it enters and uses the litter box. The Litter Robot 4 starts its cleaning cycle once the allotted amount of time has passed.
During the cleaning cycle, the globe shaped litter chamber rotates slowly, sifting through the clumped waste and separating it from clean litter. The waste is then deposited into a separate drawer located at the base of the unit. This process ensures that only clean litter remains in the chamber for your cat's next use.
One of the key features of Litter Robot 4 is its ability to accommodate multiple cats with ease. The spacious interior provides ample room for even larger cats, while its self cleaning mechanism ensures that each cat has access to a fresh and hygienic litter box at all times.
Another notable feature is its automatic waste management system. The waste drawer can hold several days' worth of waste before it needs to be emptied, making maintenance effortless and reducing unpleasant odors in your home.
Also, Litter Robot 4 offers customizable settings such as adjustable cycling timers and sleep mode options, allowing you to tailor its operation according to your specific preferences.
What are the key features of Litter Robot 4?
Automated Litter Box: The Litter Robot 4 is an innovative, self-cleaning litter box designed to automate the process of cleaning up after your cat.
Circular Design: It features a unique, globe-shaped design with an opening where the cat enters and exits.
Sensors and Timer: The Litter Robot is equipped with sensors that detect when your cat has left the litter box. After a set amount of time, usually a few minutes, the cleaning cycle is triggered.
Rotating Mechanism: Once the cleaning cycle begins, the Litter Robot starts rotating slowly, sifting the litter through a sieve. Solid waste is separated from the clean litter and collected in a waste drawer below.
Odor Control: The waste drawer is lined with a disposable bag to make disposal easy and help control odors. The self-cleaning mechanism ensures that waste is promptly removed, reducing unpleasant smells in your home.
Low Maintenance: Owners of the Litter Robot 4 find that it significantly reduces the frequency of litter box cleaning, making it a convenient and low maintenance solution.
Suitable for Multiple Cats: This innovative litter box is designed to accommodate multiple cats with its spacious interior and adjustable settings for different cat sizes.
Adjustable Settings: Users can adjust the cleaning cycle time and duration based on their cat's preferences and litter usage.
Energy-Efficient: With an energy saving mode and low power consumption, the Litter-Robot 4 ensures minimal impact on your electricity bill while providing optimal functionality.
Cost Considerations: While the initial cost of the Litter Robot 4 may be higher than traditional litter boxes, many cat owners find it to be a worthwhile investment due to its time-saving and convenience benefits.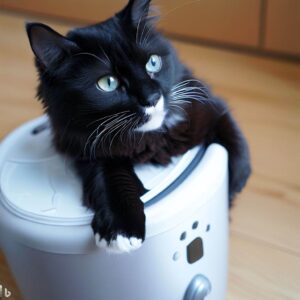 Through its automatic self-cleaning system and user-friendly features, the Litter-Robot 4 provides convenience, cleanliness, and odor management. It's the perfect answer for cat owners wishing to streamline their routine for maintaining the litter box while giving their feline friends a tidy and comfortable environment.
Litter-Robot 4 not only saves you time and effort but also guarantees your beloved pet's best hygiene. By reducing contact with waste, its innovative sifting technique stops the formation of bacteria, protecting your pet from dangerous diseases.
This cutting-edge equipment also features user-friendly controls that let you personalise cleaning cycles to suit your tastes. The Litter-Robot 4 can clean either quickly or thoroughly depending on your preferences.
Why is this litter robot 4 unique?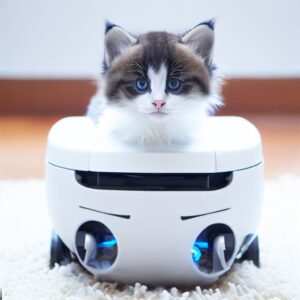 There are other self cleaning litter robots, but what makes the Litter Robot 4 unique is the WiFi and Bluetooth-enabled app that monitors your cat's weight and bathroom usage and notifies you when the litter box has been cleaned. Simply because I don't particularly want to be informed when I'm not home that my cat is using the loo, I don't like this. One morning when I wasn't at home, I received more than a dozen calls because my cat, who is a little freak, kept stepping in and out of the litter box.